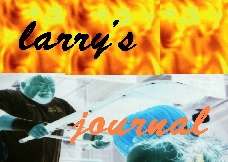 My wrestling journal...this is not a diary, homos keep diaries, this is a journal god damn it.



Friday, 6/29



Friday night, I was working at the bar. Just before closing time, along with my fiance, Michelle, a bunch of my EWA brothers showed up: Draven and Crystale, his girlfriend; Mad Dog and Adrienne, his fiance; Josh, the person I can thank for getting me into the EWA, his new drunk girlfriend and Fraggle. Some had drank more than others, but I won't mention names, even though I'd like to. Michelle wanted another drink before closing, but they had just stopped serving. DAMN IT! They were so close, yet so far. Then again, these drunks really didn't need another. They were about to get a free show out back.

After work, I went out back to find everyone. Everyone was still out. I said my "hello's" again. Draven yelled to me that I need to see something. What I saw next would make any crowd break into a fecal chant. All I can say is that it involved certain females of the EWA and a few of their friends being very friendly. If you missed it, sorry. It was certainly a scene the WWF would never put on their Divas video. That's the reason to make sure you come down to the Old Port and especially the Dirty Bird. Alright, Club 432. After a short visit, I headed home to catch some sleep before a long day Saturday.



Saturday, 6/30



Saturday started at 11am for me. Once everything was set up for the show, I got a couple of the students from the school in the ring at the Stevens Ave. Armory for a little more training and getting used to the much larger and stiffer EWA ring. Mike and Louie: good job. Keep working hard. I bet you guys like the training ring a little more, huh? And Mike, thanks for the little interpretive dance. It took balls. LOL

Saturday was good for a lot of ribs including hidden surprises in lunches and a certain wrestler's boot. I didn't know he was into stuff like that. You, freak. But then again, most people probably didn't know I carried around gay porn. But then again, I didn't buy it, did I Mad Dog?

At the 2pm show, I worked Don Juan Desanto, the EWA Heavyweight Champion. We had a pretty solid match. I came up short because of a street sign and Desanto's right foot. He is definitely one of the best workers I've been in the ring with and one of the best workers in all of New England. One bad thing definitely came out of the match. I launched Don Juan from the floor to the post in a hot-shot type move. He injured his right wrist which ended up being a fracture. Get well soon, D.J. I'm sure our souvenir girl was depressed over the break.

The fanfest between shows featured the "EWA's smartest human". Alexander Worthington ended up winning the contest. I think he worked the judges and got some damn easy questions. The other feature was question and answer sessions with many of the EWA lockeroom. They put me with Honey and Draven and Mad Dog of the Damned. Our session was alot of fun. Alot of jokes and stories were told. The Damned have got to be funniest guys in the business.
Hey, Fraggle, remember if you are not a worker you have to pay for everything. No DAMNED excuses.

At the 7pm show, I worked a Four Corners single pinfall match with Mr. Muscles Frankie Armadillo, Mike Steel, and Big Rick Fuller. I have two things to say about that match. Mike Steel is one strong mother. He had me in a standing vertical suplex for twenty seconds. The second is that Frankie can take a hell of a beating. Fuller treated him like his personal bitch.

These shows saw the debut of several new valets/managers to join the existing ones in the EWA. Mercedes, Kimmie, and the mystery woman on the ramp taking notes all did a good job. Honey did her usual good job of keeping the fans into the matches and Mistress Cuntressa, oops, I mean Vanessa was equally good at pissing off the fans. Bernadette was at her best tonight, but she's nothing short of wonderful all the time, even if she likes sushi.. Her entrance was great and she never stopped moving. All of these women and more should be involved in the Swimsuit Contest on August 3rd. This is something that all of the fans and workers should be very interested in seeing, cause we're all just a bunch of horny eight year olds that like to play super hero on the weekends.

After the show, everyone headed home. Usually, some of the EWA guys go out after the show, but this was a damn long day. Props to Billy for getting us all the drinks.



Sunday, July 1



Sunday morning a bunch of the guys had to finish putting things away back into storage. We even had the services of Mad Dog. Kenny "El Tornado" Majors even helped after we finally got him going. He's still getting over his short career in direct to video action flicks. Michelle and I went over to Josh's later, but didn't stay long because everyone decided they needed to take a nap. That night we all got together one more time before Draven, Mad Dog, and Adrienne were to head home the next day. The total group included Mad Dog, Adrienne, Josh, his girlfriend, Jen, Fraggle, Michelle, and me. We went to a 9pm movie. It was called Memento. Good, solid movie. It didn't even confuse Mad Dog once.

After the movie, we all went to Sebago Brewing Company (164 MIddle Street) to get a little food and beverage. This is were shit started to happen. The waitress came over with all the drinks from behind me. I didn't know she was there. I raised my hands in some sort of celebration reminscent of a Samoan woman winning a car on Price is Right and I knocked the entire tray out of her hands. I don't know if she douches with beer, but today she didn't feel too fresh. Some landed on me while most of it landed on the unfortunate Fraggle.

My automatic response was "I'm sober and I'm sorry." I was on both accounts. I felt horrible. We all laughed for 15 minutes about it, but also felt really bad for the waitress. That's why I left a 40% tip. From then on, the waitress came to the table by someone else. She didn't trust me anymore. Come on. One little mistake and I'm cursed. Nothing else was dumped by us. However, on the other side of the bar something went crashing a few minutes later. Like an old Catholic woman yelling "Bingo", I let out "It wasn't me!" All in all it was a good night. We all went our seperate ways after we left.
This weekend was a lot of fun. The only thing that would have made it better was getting tattoos at Pins and Needles while listening to WRED and eating food from Quality Shop. Of course, we could have just read comics from Casablanca Comics while enjoying cocktails on the back deck of The Dirty Shady Lady Club Penguin 432 Bird.

The EWA has a great lockeroom, although someone needs to fix the goddamn ice maker, and it's great that the guys all get along so well that we can socialize together. It makes it a lot easier to bust your ass when you know everyone else is doing the same thing to put on the best show we can.