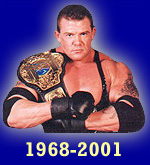 My wrestling journal...this is not a diary, homos keep diaries, this is a journal god damn it.
Saturday, December 4, 2004
I'm writing a journal entry for the first time in a long, long time. When I write entries, I try to be as specific as possible so you can have some idea of what this business can be like and to make it personal. I am going to write more journal entries, I swear. I know, I know, I've said it before, but this time I'm going to do it. Some of them may not be chapters in books like they were in the past, but I'll do my best.
What better way to start of my "new" entries, then to start with the always present threat of injuries? Last Saturday night, while in the glory of introducing the Holyoke, Massachusetts fans to my long lost brother, Handsome John Huntley, the Huntley Boys had a tag match with El Boriqua and Mercedes Martinez. Things seemed to be going our way until the match broke down and I was left in the ring with Martinez. While I was the far stronger athlete, regrettably she was quicker and ducked my attacks until I was caught with a crucifix. While attempting this flashy move, she dislocated her shoulder. I'm sure it was my strength that caused the problem. Well, anyway, I tried to attack her, but the ref wouldn't let me. At that point, I attacked El Boriqua who was on the floor and by the time I came back Martinez not only recovered, but attacked my groinal region with a front kick. Needless to say, I was done and she rolled me up for the one, two, three, but she was definitely holding my trunks. I know it. No matter how rough I may be in the ring, I don't purposely try to injure people, but sometimes things happen. Martinez was sore as hell afterwords, but in true pro wrestling fashion said that she was going to make every show she has booked which is every week for two months. That's one tough woman, but she'll get hers.
The ride home was easy as I got to sleep and didn't have to worry about the driving. That was a pleasant difference. I woke up just in time for my drop-off at the park and ride and I was home and in bed 30 minutes later.
That leads to this past Tuesday night. My partner, Sonny Roselli and myself were scheduled with our manager, Miss Bobbi to have a six person Hardcore Match against Quentin Michaels and the Brothers Dangerous at Skip's Bar. The people at Skip's Bar are some of the best fans there are. We can have only 30-40 people and it's hotter than much larger shows I've been to. I'm sure the booze doesn't hurt, but these are great. They love to be entertained. Back to the match, after Miss Bobbi was carried out back, things seemed to get nuts. I came back from the lockeroom to help Sonny. We took back over on Donny and Danny on the floor. Sonny stayed with them as I got into the ring. I tried to cross body the Dangerous Boys but my foot slipped off the greasy top rope and crashed onto the floor only slightly hitting them. I took it hard on my foot, knee, and hand. After a couple of minutes I struggled back to the ring. The match continued for several more minutes and I did my best to keep up. After a miscue by the Brothers Dangerous, we capitalized and a Death Valley Driver and Top Rope Splash onto a prone Donny Dangerous with a crutch I just so happened to place on him, we were successful.
Following the show, with alot of help, I got home. I want to thank Dan and Nikki for all there help. I spent the next day out of action nursing my wounds, but after trying to work the 2nd day and not being able to, I figured it was time to get x-rays of my ankle and foot. Despite the doctor being pretty sure it was broken, he couldn't find any breaks. That's a definite good thing. I'm writing this now as I'm in the middle of about 5 days of no weight on my foot. I have some shows coming up and I'm doing everything to make it possible for me to get through those matches. I am going to take everything easy but I hate missing matches. If everything goes alright, I won't miss many shows.
I promise to write and I hope you enjoy reading about some of the fun and pain involved in my life as a pro wrestler.
Thanks

Past Entries
October 12, 2002