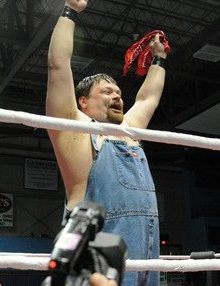 "FAIL!"
Ask ECW Superstar "High Flying" Chris Hamrick



"Larry Huntley is FIRST CLASS!"

Quoted by WWE Legend The Birdman Koko B. Ware



"Oh, no. You're not a dumb C U Next Tuesday. You are a smart C U Next Tuesday!!!"

Ask the Southern Beast!



"Mark Moment, You faggot!!!"

Matty Michaels sure can get to the point!



"Hold my Beer!!!"

R.I.P.



"Through the modern technology of DNA Testing and the Montel Williams Show, I have found my long lost brother, Handsome John Huntley"

Promo to introduce the Huntley Boys to Holyoke, Massachusetts



"Legion, what??? You're French???"

Huntley asked Cage after a Tommy D introduction