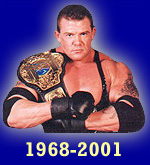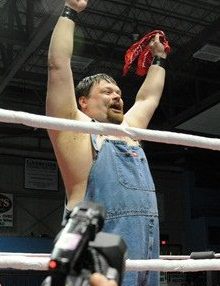 My wrestling journal...this is not a diary, fruits keep diaries, this is a journal, damn it.
Monday, February 14, 2011
It's only been almost five years since my last post on here. LOL. Since my last post, I've planned a wedding(she made me help), get married, have a son, and get a new house. Life sometimes gets in the way. I was updating my site today and figured I'd put a post up here as well.
It has been a month since, Kyle, my son turned on me in Brewer. I have been taking my share of beatings since then. I've been pretty sore the day after these beatings. I don't heal up as quickly as I used to. I haven't had much for road stories lately. Instead of trying to force them, I'll defer to my next post which I swear won't be more than a month from now, not 5 years from now.
I do have a bunch of shows coming up in March. IWE returns to Fairfield Friday, March 4. I get will be able to get my hands on Kyle one more time. Then, Saturday the 5th, I will captain Team Huntley vs. Primer Inc. in a 5 vs. 5 Ultimate Survivor Match. It's basically WarGames rules with the staggered entrances but it's an Elimination Match and wrestlers can be eliminated at any time. Pinfalls, submissions, and disqualifications will all be means of elimination.
I will also be on the first event of Wicked Good Wrestling. It will be Saturday night March 19 at the Palmyra Community Center. I will be facing the "Granite State Destroyer" Gunnar Rowe. I don't know much about good ol' Gunnar, but looks formidable from what I've seen on the Web. Finally for the month of March, the Enforcer will jump into the telephone booth one more time. He will exit that booth as the Scufflin Hillbilly Cousin Larry as he debuts for Big Time Wrestling. He will be in Chicopee(Massachusetts) Friday, March 25, Webster(Massachusetts) Saturday March 26, and Augusta Sunday afternoon, March 27. These are going to be headlined by WWE Legends "Rowdy" Roddy Piper and "Million Dollar Man" Ted DiBiase. Also on the card will be the current BTW Heavyweight Champion and former NWA World Champion and ECW World Champion "The Franchise" Shane Douglas. All of these shows are going to be big events, but I am especially geeked for the Augusta Armory. When I started wrestling, the three buildings I wanted to wrestle in were the Portland Expo(done, thank you Paul Adams), the Augusta Civic Center(next month, baby), and the Cumberland County Civic Center. I don't know if that last one will ever happen, but hey that's why they are goals.
My plan is to write every month or so. My Guestbook is always there or catch my Facebook page.
Thanks
Your Friendly Enforcing Hillbilly
Thursday, March 1, 2006
Once again, it has been quite awhile since I have written an entry. My problem is that when I write, I don't want to half-ass it and not write it as completely as possible. Because of that, I put it off and eventually months go by. My New Years resolution is to try to write at least twice a month. They won't be as long for you guys to read or for me to write.
In October, I traveled to Tennessee with Sonny, Jay, and Mark for the NWA Convention. I am able to get pretty good deals on cars, so we were able to get an excellent car with lots of room for the drive. Room is essential for a 20+ hour drive. Sonny and I did the driving, keeping really good time. We pulled in Thursday morning to Nashville. Once we arrived, we were welcomed by all of the boys that were already there. I remembered many of them from last year including Patty and LA Warren from NWA Ireland. The Ireland group is always rowdy and stereotypically yes, looking to and getting drunk, actually totally obiterated. Hey, it's a stereotype for a reason, dammit!!! LOL After taking it all in last year in cold-ass Winnipeg, it was nice to be somewhere warmer. We did alot of networking with all of the NWA Members/Owners.
After alot of persuading of my traveling buddies, the first night we traveled just 15-20 minutes to Lebanon, Tennessee. We weren't scheduled to wrestle that night. We were just going to watch the show and try to enjoy it. Now, fans being marks is great, but when a wrestler is a full-blown Mark, it's sad and funny at the same time. Sonny and I look over and a Mark is selling Tracy Smothers Merch. We almost fell off our chairs laughing so friggin hard. After the laughing, we gave the Mark so much crap it wasn't even funny(No, it was friggin hilarious!!!!). A few minutes later, the promoters needed fill-ins for a six-man match. Sonny and I were willing but the Mark had to get off the Merch table. LOL After a few minutes, Tracy came out and let the Mark go.
Our match was about 2.5 hours into a what ended up being a 4 hour show. Damn that was a long wait. While we were waiting, we ran into Paul Adams of the "infamous" Maine Event Wrestling. I have nothing but good times with MEW and Paul. While others may have hated him, not I. We shot the shit for a few minutes. I got his number in the hopes of getting work while we were down there. Foreshadowing. Read on. It will all tie in later(oh boy). The match was Sonny, Mark, and I against the 800 pound Big Islanders and the NWA North American Champion JT Wolfen. The match was good for what it was. We got good heat from the crowd. Mark got pinned after a Wolfen-Sault. Following our match, we hung out for awhile, but with as little rest as we had, we said our goodbyes. We went back to the hotel and hung out for a little while, but we hit the sheets within an hour.
The second day started off right where the first night ended. The Ireland guys were still rowdy and since it was 9AM, they were only "looking" to get drunk. We had a great day with the boys. Other than lunch and swimming, we didn't do much. The second show was in Springfield, Tennessee. That ride was about 40 minutes. Mark lost to NWA North American Champion JT Wolfen. Actually it was a beating. Later in the night, Sonny and I challenged the NWA New England Tag Champs The Vachon Brothers and the Big Islanders in a three way match. Sonny and I worked really well together showing double team moves that impressed the crowd. Sonny and I won the NWA New England Tag Team Titles and the crowd really made some noise for us. This match was really good, one of the better one of the entire card. It would have been even better if Sonny hadn't slipped off the ropes and could have broke his neck. We had Damien Vachon in trouble. I picked him up and hit the Spineshank. I had set him up perfectly for Sonny's top rope splash. There was only one problem. The cables were really slacked. They gave Sonny no spring and because of it he slipped. Thankfully, he was able to land on his feet and I think he was unnerved. Instead of hitting a standing splash or something else, he just covered him. As the commentators of the NWA 57th Convention Director's Cut, available at Highspots.com(shameless plug, YES!!!), said, "Looks like the spineshank took everything out of him and Sonny is still able to get the pin."
Following our match, Sonny decided it was time for some beverages. When I say "some", I mean shitload, LOL. Sonny got obliterated. Due to us being so far away from home and not wanting Sonny to do something really stupid, possibly effecting the both of us, I watched out for him all night. I don't want to say too much so I'll leave it this way. If you like watching shoot interviews, try the "Sonny Roselli is drunk" Shoot Interview. Damn, can he cut someone down. There was one that I thought was goint to cry. I finally got Sonny to go to the room at 3AM. I would have been in bed by Midnight or so, but no, not Sonny. LOL
Saturday, we weren't book for the Convention Show but we had the chance to work for USAPro, a good company down there. There was only one problem. Sonny was in such bad shape that I couldn't get him up and out of bed by 3PM or so when we would have needed to leave. I had Paul Adam's number and he had said that he would have given us a ride. Oh well. Like they say on the "Facts of Life", "You take the good, you take the bad." Anyway we went to the Convention Show to cheer on Mark in an excellent match versus Jason Rumble. Mark came up a little short, but had the best match I've ever seen him have. He's come a long way. After the show, we went back to the hotel and packed our bags. We said our goobyes and took off that night trying to save some time. We made it back to Maine without any problems. It was a great weekend full of alot of driving, visiting with friends and getting to show our talents in the ring. The Convention is always a fun time.
In November, I lost both the AWA Heavyweight Title in Claremont, New Hampshire and the NWA New England Tag Team Titles in Everett, Massachusetts. Nothing was that eventful either night except getting to work with John. John is always good. We had good matches that the fans were into. One thing about the NWA New England show, someone in a lockeroom had talked about being able to beat me up in the past even though he had never seen me. This was the first time I had ever met him and I confronted him. I asked some of the boys whether he'd shit or piss himself. I couldn't get him to do either, but it was alot of fun making him out to be the bitch he is.
In December, New Wrestling Horizons began running weekly wrestling shows again. This time in Old Town, Maine at the VFW Hall. Honestly, I had some reservations about the idea of weekly shows. I didn't know if the area could sustain a weekly show. I am very glad to say I was wrong. The crowds are good-sized and growing especially for the size of the area and they are hot. For a reference, if any of you went to Skip's when they first started, the Old Town fans are just as Rowdy, just as Hardcore, and just as much a bunch of Freaks as the Buxton fans. That also is a sober crowd. Imagine if booze was allowed in Old Town. I can't. Whether it's the MIF's, the kids in the front row, or the adults a couple of rows back that in the beginning of the shows don't know whether it's cool or not to make noise, they all get into it. There's nothing like walking through the curtain and hearing the appreciation of the fans. Even though it makes for extremely long days, Old Town is one of my favorite places to wrestle.
Wrestling weekly makes it hard to remember all of my matches, but I will say the crowd is always behind me. January 26, I was defending my NWH Heavyweight Title against the enormous Mason X. I had him reeling at the end of the match, but he headbutted me with the mask and used the ropes to get the victory and the title, but that wasn't the worst of it. I got up and Mason X took off his mask and hit me square in the head like he was swinging a baseball bat. When I was out, X revealed himself to be Sonny. With me out of it, Sonny proceeded to run down the crowd and whine and bitch alot. He told the fans that I didn't give him a title shot. Well, duh. I wrestle who they tell me to. Sonny has some payback coming. I can guarantee you that.
Two days later, NWH had it's first TV taping in Brewer. A lot of things are happening with NWH and it's really exciting. Spike and I got there early to help with the set-up. Actually, Spike did a lot of set-up. I set up what was absolutely needed for production and then supervised alot. I'm good at that. I wrestled three times that night. I beat up Mason X and no it wasn't Sonny this time(I think), but it was still fun. My second match was a victory over Tim Sabin and the nickname he earned of "Too Tough". The third match was a battle royal for a Heavyweight Title shot. Just a few minutes in, Sonny apparently hadn't given me enough shit and also apparently didn't want me to get a shot at returning the butt-kicking. His distraction allowed Mason X to him me from behind and eliminate me. Sonny must really be afraid of me. That taping lasted until after midnight and by the time I got home it was 3AM. 6AM came really quickly, but it was definately worth the long day to be part of TV. NWH is really growing by leaps and bounds with the new TV deal and a very successful weekly show. It's a great time to be involved with wrestling in Maine.
With all of past being covered, now I can talk about the present. Three Thursdays ago, I teamed with Hardware versus Sonny Roselli and the Canadian Moondog. The background on this match was the previous week, I made the save on Roselli and CM beating up Hardware. This match was very good with CM taking a real good beating by H-Dub and myself. H-Dub ended up getting cut off and was trying to battle back at the champs to no avail. Finally, Dub made the tag and I came in a ball of fire. I had CM down and went for the cover. After the kickout, I got up and Sonny attacked me from behind, sending me to the floor. On the way out, Hardware tagged himself in and hit the Stunner on the weakened CM. Dub went for the cover. Roselli attacked Hardware with the bone to get DQ'ed. I was attacked with the bone as well. With both of us down, they whipped us repeatedly with belts. They left us in a heap. The Commish came out and made the match for the next week: H-Dub and Me vs. Sonny Roselli and Canadian Moondog in a Tag Team Lumberjack Strap Match.
Last week, I went up to Old Town with KC. I'm glad K is back wrestling with us reguarly. He's a real nice guy and he started with me. The ride up was decent enough. When we got there, I said hello to the boys and greeted JT Wolfen and Dave Heart. Wolfen and Heart are from Hawaii and had the honor of wrestling JT at the 2005 NWA Convention in Tennessee. The card was excellent all night, event when I thought it wouldn't. H-Dub and I got a rematch with Canadian Moondog and Roselli in a Tag Team Lumberjack Strap Match. With our opponents already in the ring, we charged the ring, belts in hand. We cleared the ring, but Sonny didn't get out quick enough so I whipped him across his Italian ass as hard as I could. There's nothing funnier than watching that big of a man hopping around grabbing his ass. The match had great heat despite the Heatsnake Lumberjacks. After I got the hot tag, there were several near-falls for each team. We had the match won after I hit the DVD and H-Dub hit the second rope. I made the cover. When the ref attempted to put H-Dub out of the ring, Canadian Moondog hit me in the back with the bone. Roselli covered and got the win. Slowly we recovered and while they celebrated, we grabbed two of the belts and proceeded to whip the holy hell out of the chumps. Eventually, they got out of the ring and went to the back, but their manager didn't get out of Dodge. The Lumberjacks threw him in the ring and I think there were 7 or 8 of us whipping the be-jesus our of him. It sure was a lot of fun in a manly kind of way. The ride home was OK except during KC's turn to drive when he almost fell asleep. Thank god for those rumble strips on the emergency lane. I kind of demanded we swap drivers back. I drove the rest of the way home. I got to bed about 1:30am and had the pleasure of gettting up for work at 5:15am. Oh, frickin Boy!!!
This last week, Spike and I drove to Old Town. Spike was finally able to go again. Behave. The crowd was huge this week. When they call for extra chairs before the show starts is always a great thing to hear. The match was decent for what it was. I teamed with Heartstopper versus Kyle Krup and Mason X. Heartstopper and I got the win after HS's samoan drop and my second rope elbow. Immediately following the match, Moondog tried to attack me. I ducked his swing with the bone and booted him. I grabbed the bone and shot him into the ropes. I was aiming for the fences but CM didn't like it when I had the bone and he high-tailed it out of the ring. With the help of the Commish, I got a match for this week versus the Canadian Moondog for the Maine State Title in a Dog Bone on the Pole Match. This could get ugly. I kind of hope it does. With all of the times he's attacked me from behind or beat me up with that friggin dog bone, I finally have my chance one on one to kick his tail and take the NWH Maine State Title along the way.
I plan on writing every couple of weeks. In fact, I'm already getting ready. Also, don't be afraid to drop a line on my Guestbook.
Thanks
Your Friendly Enforcer

Past Entries
October 22, 2005
September 22, 2005
May 22, 2005
December 04, 2004
October 12, 2002